Annie Besant
Annie was a political activist, motivated by her radical socialist beliefs. Her most famous achievement was her 26 years as President of the Theosophical Society, an office she held from 1907 until her death.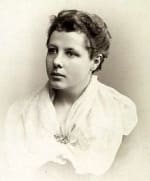 Annie Wood was born in London to William Burton Persse Wood and Emily Morris in 1847. She may have been three-quarters Irish by ancestry, but Annie would identify wholeheartedly as Irish. After the death of her father when she was five years old, Annie's mother struggled to support her. In 1855, Annie's life would be impacted significantly by the influence of Ellen Marryat, an Evangelical Christian who took Annie into her care for eight years. Marryat oversaw Annie's education and also instilled in her the importance of Christian charity towards others. Upon leaving Miss Marryat's care, Annie returned to her mother where she further pursued her studies and met her future husband, Frank Besant. Frank was ordained as an Anglican priest and married Annie on December 21, 1867. The couple had two children within the first few years of the marriage, Arthur Digby (b. January 16, 1869) and Mabel (b. August 28, 1870).
Annie Besant: Secularism and Political Activism
Both of Annie's young children contracted pertussis (whooping cough) in 1871, and the suffering they endured caused Annie to struggle with the problem of evil, as she was unable to reconcile the existence of evil in a world created by a good God. This was the seed of doubt that would lead to Annie embracing increasingly heretical views, until eventually, she first left the Church and eventually left her husband Frank in 1873. By 1874, Annie embraced an atheistic worldview and joined the National Secular Society in August of that year, after meeting its founder Charles Bradlaugh. Bradlaugh was co-editor of The National Reformer, the official newspaper of the National Secular Society. Annie soon joined him in the same capacity, writing prolifically throughout her time as co-editor. Annie used her renowned oratory skills to give addresses championing the Society and its causes. Among Annie and Charles' most controversial acts came in 1877, when their newly founded Freethought Publishing Company reissued the 1832 book, The Fruits of Philosophy by Dr. Charles Knowlton. Besant and Bradlaugh were arrested and prosecuted under the Obscene Publications Act, but later successfully appealed against the verdict and were released. Knowlton's book had promoted contraception among the working classes, which was illegal at the time. This inspired Besant to argue in favor of birth control in a series of articles in The National Reformer. These were collectively published in a booklet, The Law of Population.
It was during the 1880's that Besant was introduced to socialism; she eventually resigned her role at The National Reformer to join The Fabian Society in January 1885. In the early 1880's, Besant had entered into a relationship (perhaps a romantic one) with George Bernard Shaw (1856-1950). It seems that he persuaded her to join The Fabian Society and sponsored her membership in the Society. Besant went on to participate in an illegal protest organized by the socialist Metropolitan Radical Federation at Trafalgar Square on November 13, 1887. The demonstration turned violent and came to be known as "Bloody Sunday" (after 300 arrests and 150 wounded).
Annie Besant: Theosophy
By 1888, Besant had become a member of the Social Democratic Federation, and her political activism extended to trade unionism and other socialist causes. Besant believed that in order to achieve true brotherhood "in which service to Man should take the place erstwhile given to the service of God," socialism would not be enough. Besant had some previous exposure to the occult and spiritualism throughout the 1880's, but the real catalyst for Besant's conversion from socialism to Theosophy came when, in 1889, she read (and subsequently reviewed in the Pall Mall Gazzette) Helena Petrovna Blavatsky's The Secret Doctrine. Besant soon joined the Theosophical Society (May 10, 1889) and visited Blavatsky in Fontainebleau. Blavatsky saw great potential in Besant and took her on as a disciple within the Inner Group of the Esoteric Section of the Theosophical Society. She was subsequently given the role of co-editor of Blavatsky's Lucifer magazine. After Blavatsky's death on May 8, 1891, Besant was entrusted with further responsibilities within the Society and she grew to become (arguably) the most influential member within a few years. Besant met with the co-founder Henry Steel Olcott during her visit to India in 1893 and fell in love with the country. Besant began studying Hinduism and Sanskrit in India, which enabled her to translate the Bhagavad Gita in 1895.
It was during the mid-1890's that Besant came under the influence of occult writer and investigator Charles Webster Leadbeater. Besant and Leadbeater went on to collaborate on a number of investigations of spiritualist/occult phenomena. Leadbeater claimed to have taught Besant his clairvoyant method of investigation, the results of which would lead them to co-produce a number of books. Leadbeater resigned from the Theosophical Society in 1906 after accusations were brought against him regarding alleged improper conduct with boys, but Besant supported him until he was reinstated into the Society in 1908. Following Olcott's death in 1907, Besant was elected President of the Theosophical Society.
Annie Besant: The World Teacher
The Theosophical Society (beginning with co-founder Helena Petrovna Blavatsky), had posited the existence of a 'spiritual hierarchy' which oversees the evolution of humanity. The Society anticipated one of these Masters of Wisdom coming into the world to take on the role of World Teacher. Besant further developed this concept during the turn of the century, as did Leadbeater, who believed that he had discovered the human vessel (or "vehicle" as Leadbeater referred to him) into whom the Teacher (Lord Maitreya) would incarnate. Jiddu Krishnamurti (1895-1986) was 14 years old at the time of his discovery, and was legally adopted by Besant in 1910. Leadbeater believed that the Lord Maitreya had become incarnate at certain key points throughout history (most recently as Christ during the ministry of Jesus), and had returned to prepare humanity for the dawn of the sixth "Root Race." Besant invested 20 years in this project, and established the Order of the Star in the East to promote this messianic figure to the world. By 1929, Krishnamurti dissolved the Order and abandoned the Theosophical Society, but maintained his close relationship to Besant, his surrogate mother.
After the failure of the World Teacher project, Besant's health began to deteriorate and she eventually died at the headquarters of the Theosophical Society in Adyar, India, on September 20, 1933.
Resources:
Taylor, Anne (1992). "Annie Besant: A Biography."
Goodrick-Clarke, Nicholas (2008). "The Western Esoteric Traditions: A Historical Introduction."
Faivre, Antoine (2010). "Western Esotericism: A Concise History (SUNY series in Western Esoteric Traditions)."
Hanegraaf, Wouter J (2006). "Dictionary of Gnosis and Western Esotericism."
We have all
sinned
and deserve God's judgment.
God
, the Father, sent His only Son to satisfy that judgment for those who believe in Him.
Jesus
, the creator and eternal Son of God, who lived a sinless life, loves us so much that He
died
for our sins, taking the punishment that we deserve, was
buried
, and
rose from the dead
according to the
Bible
. If you truly believe and trust this in your heart, receiving Jesus alone as your Savior, declaring, "
Jesus is Lord
," you will be saved from
judgment
and spend eternity with God in heaven.
What is your response?